Vessel Monitoring & Surveillance
WHAT IS VMS ?
A Vessel Monitoring System (VMS) is a cost-effective satellite based tool for the successful monitoring, control and surveillance (MCS) of fisheries activities. It provides to the Vanuatu Fisheries Department accurate and timely information about the location and activity of regulated fishing vessels (FVs) via Mobile Transceiver Units (MTUs) that were installed onboard each licensed FVs prior to the commencement of their fishing operations.
THE IMPORTANCE OF VMS
Fisheries Act No. 10 of 2014  
PART 19 – MONITORING CONTROL AND SURVEILLANCE. 
           Section 121- 122: 
All Vanuatu Flagged FVs licensed to operate inside and outside Vanuatu Exclusive Economic Zone ( VU EEZ)  and all Foreign FVs licensed to operate inside VU EEZ are required as part of their Fishing License Conditions to install, operate and maintain a MTU onboard their vessels for the duration of their licensing period.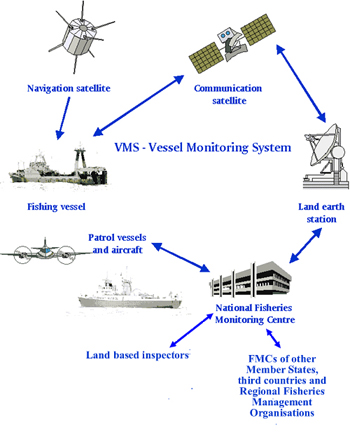 APPROVED MTUS
MTUs must be in the list of Approved MTUs and/or meet certain specifications within a jurisdiction prior to installation onboard FVs. This is to ensure accurate GPS readings and normal, consistent broadcasting in a harsh environment like the sea.
A regularly updated list of MTU installers around the region is maintained for vessel owners' convinience should there be the need for MTU installation done when a fishing license is purchased from a flag state.